My Thanks to Graham Jack in Narrating the AudioBook The Wolf of Dorian Gray Now on Amazon Audible & iTunes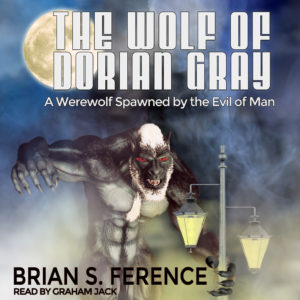 Too busy to read? Or maybe you just prefer to listen to audio books while driving in your car? Well I am happy to announce that The Wolf of Dorian Gray – A Werewolf Spawned by the Evil of Man is now available as an AudioBook on Amazon, Audible, and iTunes.
I would like to thank my incredible narrator Graham Jack who not only displayed an amazing range of character voices and accents, but also an unfailing level of professionalism and creativity. Graham was even struck with a nasty cold while recording and battled back on the tail end; going above and beyond to make up for lost time.
I am incredibly pleased with the finished product and ask you to please listen to an audio sample of the Prologue below. Then please check it out on Amazon, Audible, and iTunes. Thank you again Graham for your inventive and compelling rendition: